What is a side scan sonar?
A sidescan sonar is a sonar that is hung on the sides of ships, hence the name. It can also be attached under ships or separately. This sonar takes images of the bottom of the sea, rivers or lakes. These are images that are therefore taken from above. A sidescan sonar often has sharp images and is useful for quick analysis of bottoms. There are many different types of sidescan sonars, for specific product information and the right tuning we recommend you to visit the website of Blueprint Subsea .
asily explained: a sidescan sonar takes sonar images of the bottom from above. This shows very detailed images.
What is a side scan sonar capable of?
A sidescan sonar can be attached to the side or bottom of ships for bottom analysis. Usually one is attached to both sides of a ship, for overlapping images and a wider spectrum. This sonar can take different images and find objects on the bottom
Take a look at a picture taken by Blueprint Subsea!
With these images, both size and design can be mapped, providing a reasonable picture of the objects on the ground. This often allows one to see what an object is, and how it is laying on the ground.
What is the best use of it?
The side scan sonar is best used for general bottom scans. The entire bottom can be scanned and if there are deviations from normality, a good image can be used for object analysis. For example, wrecks, drownings and rocks can be detected. For inspection of large areas, these sonars are ideal, they scan the bottom in detail and provide an excellent image quality for further analysis.Therefore, it is a useful product!
What is missing for a good analysis?
The side scan sonars are good, and can easily be used for bottom scans. But there are drawbacks to this as well:
Only image from above
Difficult to assess situations
Because the image is only from above, the size of objects can be mapped, but not their height. Whether a piece of rock is one or three meters high can make a lot of difference in rescue operations.
In addition, the situation of objects on the bottom cannot be mapped either. For example, the bottom of a wreckage may be broken, or may have become completely jammed. This cannot be seen from above.
This is one of the images that can be made with the sidescan sonar!
From this image you can see that there is a wreck of a ship on the bottom, and what the size of this wreck is. How high this wreck is, however what the bottom and sides look like cannot be determined from here.
How can the ROV fill this gap?
The above situations leave a gap in analyses plans for operations. With a ROV with forward looking sonar, these gaps can be mapped quickly and accurately.
These underwater drones can sail to the bottom and map the situation, making analysis of images complete! With the additions of underwater drones (ROVs), there are images from above, and 360 degree views of all possible angles around situations. This can be done through forward looking sonar or with the 4k – UHD camera.
This puts the analysis of operations in a better picture, allowing rescue or salvage operations to be initiated.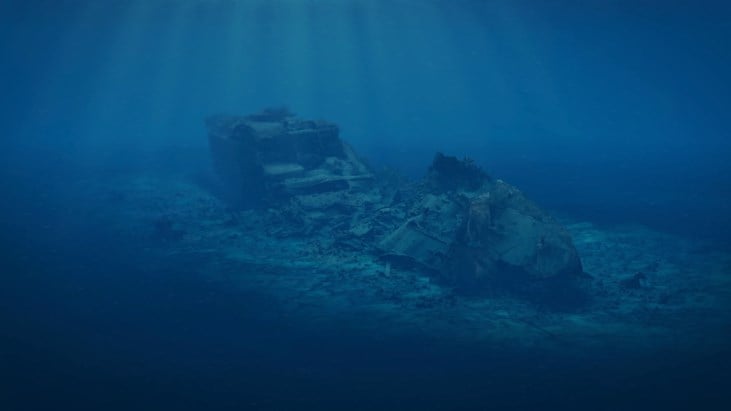 In this image, the condition of a shipwreck is well depicted; from the top, it was not so clear what this wreck looked like.With drones, the images can also be viewed from the side, and the condition of wrecks can be determined more easily.
Deploying underwater drones in rescue operations (of drowning victims)
It can also make a difference in rescue operations of drowning victims. A drowning person is generally difficult to see on images from side scan sonars. An estimate can be made from the images from above and determined to be a drowning person, but with real-time images of the drowning person, there is much more certainty.
This is a sidescan sonar image, presumably of a drowning person. To know exactly what is going on here, something or someone must be sent to the bottom. For that purpose there is nothing faster and more efficient than an underwater drone from Deep Trekker!
When it is determined that a drowning person is on the bottom, normally a diving team has to be called in to determine the exact situation and to pull the drowning person out of the water. When an underwater drone is added to the equipment as standard, a drone can be underwater within 5 minutes to carry out an analysis, which is much faster! The images from the underwater drone can also be viewed immediately from dry land, allowing the situation to be assessed and the correct actions to be determined.
This also offers the possibility to immediately bring the drowning person to the surface, with the grippers that can be attached to the REVOLUTION  the drowning person can be brought to the surface carefully, and within 10 minutes of the assessment already be on the surface! This is a huge time saver and is therefore very efficient, and actually indispensable in the toolkit of search and rescue departments.
---
Do you want more information or contact us?  Follow us on our social media websites Facebook or LinkedIn to always be informed!